Council Business:
The next few weeks of Council will be full of reports and discussions that I think are of utmost importance to our community. On Monday, we had a brief presentation from the OCP Implementation Committee on a community monitoring plan. Although their time with us was rather brief, the report they produced is an excellent start to discuss how we measure our progress towards community goals. It will be coming back to Council for a second round of discussion in the near future.
On Monday, November 2nd, Council receives the green paper on tools for affordable housing. Another critical topic for the future of our community which I've spent most of the weekend preparing comments and questions for. I've included links to a number of articles showcasing different policy approaches to affordable housing in the education and research section below.
On Monday, November 9th, Council will receive an update on transportation projects. The major project in the news is the Lower Lynn Interchanges, which the press releases say will ease the congestion issue at the Ironworkers Memorial Bridge. I met with DNV staff to be briefed on the history of this project, including the community working group process (minutes of those meetings can be found here) and to look at the conceptual design for the new Mountain Highway interchange. $150M is a very significant investment and I intend to do my due diligence on this project to ensure that it delivers the maximum amount of benefits to the citizens of North Vancouver. Having reviewed the publicly available information, I have a number of questions:
Is there a publicly available study that details how the proposed solutions (three new interchanges) will address the defined problem (congestion and east-west connectivity)?
If that study exists, does it detail the range of options that were considered to address the problem? Does it describe how those options were evaluated against each other? Does it clearly show that the option selected is the best option? Does it examine both supply side and demand management solutions?
Is there a publicly available cost-benefit analysis of that shows the cost effectiveness of the proposed solution?
In the absence of this information, I cannot confidently say whether or not the proposed projects are good for the citizens of North Vancouver, whether or not they will address the key issues identified by our community, or whether or not they are a good investment. I think it is imperative that, if this information exists, that it be made public so the citizens of North Vancouver can make an informed decision. I have scheduled meetings with Provincial and Federal officials to gather more information so I can answer these questions for myself, and the citizens of North Vancouver.
I also met with DNV Transportation staff regarding the barricades on the Spirit Trail. They are taking a second look at the situation and reminded me that the barricades are temporary.
Thursday I attended a dialogue on the future of the chief planner in the City of Vancouver. A panel of the four previous chief planners spoke frankly to almost 400 attendees about the culture of planning at City Hall and what characteristics a great candidate would possess. Many of the senior staff in the District are close to retirement and our current Council will have the task of finding stellar people to fill their shoes. It will be a challenge and an opportunity for our Council and our community.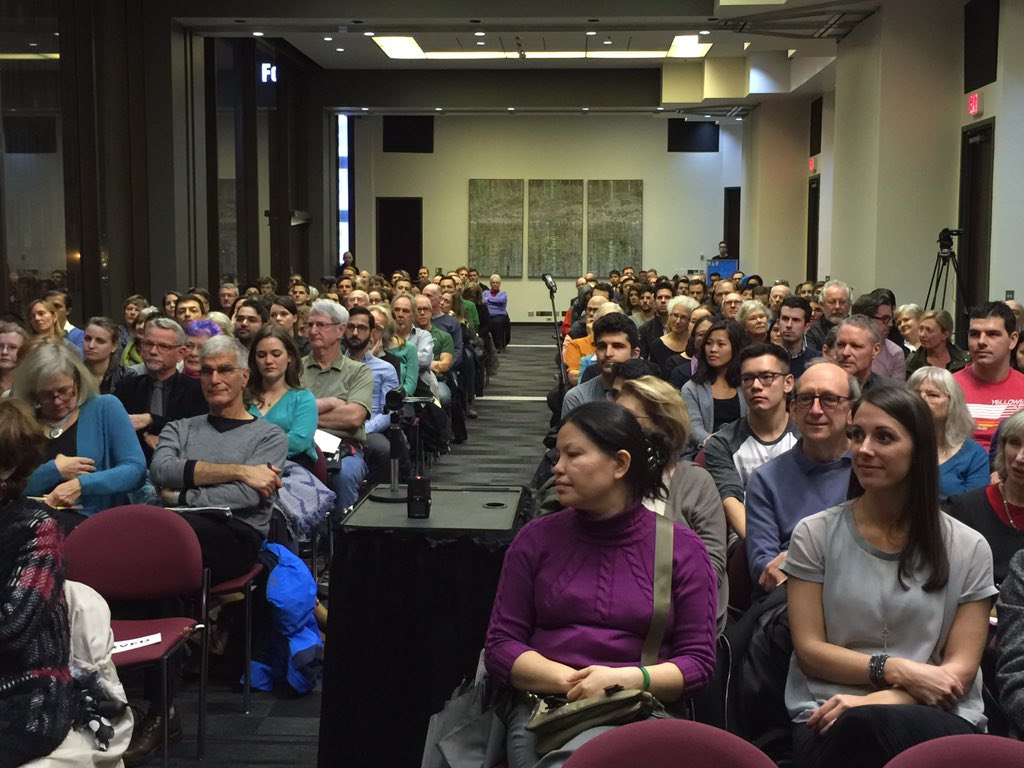 Photo Credit: Brent Toderian

As for upcoming events, I will be attending the Actions for Housing Now workshop on Tuesday, November 3rd. This workshop brings together ~80 individuals from all stakeholder groups and will create a report of recommendations for the new federal government. The workshop is part of the SFU Community Summit happening all week.
The formal process to rename the second pump peak of Mt. Seymour to Tim Jones Peak is moving along, as Council received a notification letter this week from the Province. 
Citizen Business:
Tuesday I met with members of the North Shore HUB committee. Some infrastructure can make it easier and more enjoyable when people choose to bike, with other infrastructure can make is harder and scarier. We discussed the creation of a video highlighting this in North Vancouver.
Thursday I met with Kyle Empringham, a bright young gentleman I mentor as part of the SFU Radius Fellowship Program. Kyle is the co-founder of Starfish Canada, an organization celebrates and amplifies environmental, solutions-based stories across the nation, with a focus on youth-based initiatives. We had a great dialogue about delegation and being the "new-guy" when trying to influence change. Here's a quick video from an event we attended in the spring of this year:
Here's another great video about DNV citizen, and my neighbour, Wes Hooper and his company LifeSpace Projects.
Also, if you are interested in transportation and civic engagement, the Transportation Consultation Committee is seeking applications. Anyone with a focus on business, youth, the elderly and the mobility impaired would provide a strong balance to the committee.
Research and Education:
Daily Congestion on the Upper Levels: A computer simulation on how traffic on the Upper Levels Highway forms due to a traffic shockwave at the Main Street and Dollarton on-ramps.
Transportation:
Housing:
Metro Van Rockfall: An update from Metro Vancouver on impact the Seymour River Rockfall has had on salmon.  
Where to go trick-or-treating: A cool visualization of the potential for trick-or-treaters in Metro Vancouver. Trick or treating is an indicator, if a neighbourhood is good for kids to walk around on Halloween, it's most likely good for families all year round.
Do you like this post?
---